Commonwealth Achievements
Commonwealth is not all about shame .It has done a lot for delhi
I will show you how has it contributed towards Delhi
By increase english speaking in India
Delhi will be offering innumerable amenities to all the athletes in October 2010. Free accommodation for all athletes, a modern-comfortable Games Village, cutting-edge health facilities, security, pollution-free environment, entertainment for non-competition times, transportation, etc. A free trip to all athletes to the wonderful Taj Mahal and a reserved lane for participants on selected highways is the added features of the Commonwealth 2010.
In addition to all the preparation, the cab driver, waiters, gatemen, and service staff of Delhi are being taught the English language. This is due to the rush of English-speaking tourists. Delhi government is implementing a curriculum to teach English to low-income individuals who will have a high-frequency of contact with tourists. From last two years, the city has successfully taught 2,000 drivers in English and thus continuing the program to reach as many people as possible before the Games. The city is planning to teach English to about 1,000 people per month.
The Government of India is also planning to expand the program to teach people in all dominant tourist destinations. These places include Agra and Mathura in Uttar Pradesh, Bhopal and Gwalior in Madhya Pradesh, Gaya in Bihar and Puri in Orissa. To relocate migrant beggars from Delhi streets, Delhi High Court is also set to implement a series of "mobile courts" all through Delhi.
Venues
The 17 sports to feature in the XIX Commonwealth Games 2010 Delhi will be held at six venue clusters and five stand alone venues in Delhi.
.Ceremonies, Athletics, Lawn Bowls and Weightlifting will be held at Cluster I: Jawaharlal Nehru Sports Complex;
Cycling, Gymnastics and Wrestling at Cluster II: Indira Gandhi Sports Complex
Archery (Qualification Rounds) and Table Tennis at Cluster III: Yamuna Sports Complex
Badminton and Squash at Cluster IV: Siri Fort Sports Complex
Hockey and Archery Finals (India Gate) at Cluster V: MDC National Stadium Complex;
Swimming and Boxing at Cluster VI: Talkatora Garden Complex.
Twenty-six new training venues are being constructed for the Delhi 2010 for different sports. Work has been initiated on all the training venues and is progressing satisfactorily. Apart from this, 16 training venues are being upgraded and will be ready on schedule
Jawaharlal Nehru Sports Complex
Athletics
Capacity
60,000
Competition Arena
400 m 9 lane Conica Synthetic surface Athletic track with 10 lanes in Home Straight, 60 m 4 lane Conica Synthetic surface strip at Indoor hold up area and two warm up areas - 8 lane Conica synthetic surface track and for Long Throws
Distance from Games Village
12 Km
Lawn Bowls
Capacity
2,111
Competition Arena
Four competition synthetic greens with flood lights
Distance from Games Village
12 km
Weightlifting
Capacity
2,500
Competition Arena
One competition platform; 12 warm-up platforms
Distance from Games Village
12 km
Siri Fort Sports Complex
Badminton
Capacity
4,748
Competition Arena
Five match courts; three warm-up courts
Distance from Games Village
17 km
Squash
Capacity
3,128
Competition Arena
One all glass Show Court and 10 Singles Courts convertible into Doubles courts
Distance from Games Village
17 km
Indira Gandhi Sports Complex
Gymnastics
Capacity
14,348
Competition Arena
One indoor stadium; two warm-up halls
Distance from Games Village
6 km
Cycling
Capacity
4000
Competition Arena
250 m covered Timber Track (a/c)
Distance from Games Village
6 km
Wrestling
Capacity
6,932
Competition Arena
Three competition mat areas; six warm-up mat areas
Distance from Games Village
6 km
Talkatora Indoor Stadium
Boxing
Capacity
3035
Competition Arena
One competition ring; four warm-up areas
Distance from Games Village
11 km
Major Dhyan Chand National Stadium
Hockey
Capacity
Pitch I: 19,118; Pitch II: 2,500
Competition Arena
Two competition pitches; one warm-up pitch
Distance from Games Village
10 km
R.K. Khanna Tennis Complex
Tennis
Capacity
5,015
Competition Arena
One centre court; six match courts; six warm-up courts
Distance from Games Village
22 km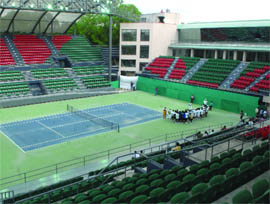 Delhi University
Rugby Sevens
Capacity
10,132
Competition Arena
Bermuda Princess 77 Grass – 120 m x 70 m
Distance from Games Village
16 km
Thyagaraj Sports Complex
Netball
Capacity
4,494
Competition Arena
One match court; two warm-up courts
Distance from Games Village
15 km
page revision: 10, last edited: 26 Aug 2010 16:58