Shubham
Hello Friends This is Shubham Sahota of IX-A
I am going to tell you about Football legends
The first one is
Ronaldo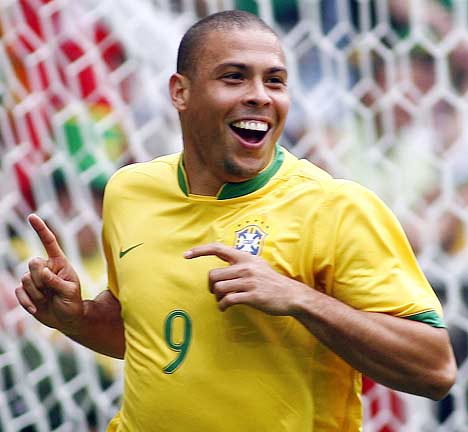 Ronaldo is born in the poor suburbs of Rio de Janeiro under the name Luis Nazario de Lima. Driven by his childhood hero Zico, the youngster enters football early in his life. By his 12th birthday he is playing in an organized youth club called Tennis Club Valqueire. With Valqueire, he plays "futebol de salão" or small-sided football with a miniature ball. This is considered an important step in Ronaldo's development as playing with a smaller ball is said to rapidly increase skill. In the following few years, he takes part in various youth tournaments and begins attracting attention. Soon after, Cruzeiro di Belo Horizonte snatch up the youngster on a $50,000 transfer.
Young Luis Nazario gets his big break at the age of 17 when he is called up by Brazil's senior national team. He performs well and is selected for his country's World Cup squad. Because of his tender age, the young Ronaldo is kept as a substitute and watches on as his team wins the 1994 World Cup.
Ronaldo's international appearances help him get noticed by European club PSV Eindhoven. He moves to PSV and instantly becomes top scorer of the Dutch league. With his growing popularity in Europe, Ronaldo is quickly singed by Spanish giant FC Barcelona. At Barca, he gets global recognition by scoring numerous spectacular goals. Moving to Italian club Internazionale is the next step in his career. Rona's start in the Calcio is promising, but playing against rough Italian defenders gradually takes its toll.
Ronaldo also returns to the Brazilian national team, scoring two goals in the final and wining the World Cup at Korea and Japan in 2002. In Germany 2006, Ronaldo becomes the World Cup's leading scorer of all time after beating Gerhard Müller's record of 14 goals. Nevertheless, his country exists the tournament in the quarterfinals after losing to France 1-0 in fifa world cup 2006
He scored a lot of goal here are his some of best
Next up is
Zinedine Zidane
Zinedine Zidane is born in France on the 23rd of June in 1972. His parents of Algerian descent have a total of five children. As a kid, school is not his strongest asset so he turns to football. By the age of 16, a scout by the name of Jean Varraud recruits the youngster to Cannes. One year later, Zizou makes his debut with the club's senior squad in the French First Division. He is signed by Bordeaux in 1992. With his new club, Zidane reaches the UEFA Cup final in 1995/96 and attracts the attention of European powerhouse Juventus. After his move to Italy, trophies start to to pour in. By 1996, Ziziou had the UEFA Cup, the European Supercup and the Intercontinental Cup under his belt. He also won the Italian Calcio twice in a row during 1997 and 1998. In the same two seasons, his club manages to reach the Champions League final twice.
When Real Madrid purchases Zinedine Zidane in the summer of 2001, he becomes the most expensive player of all time. The Spanish club paid a whopping $66 Million for his transfer. In the 2001/02 season, the Frenchman leads Real Madrid to Champions League glory by scoring a spectacular winning goal in the final.
In international competition, Zidane enters the spotlight after carrying his national team to their first World Cup title in 1998. He eventually helps them win their second European title in EURO 2000.
At World Cup 2002, France is eliminated in the first stage. Zizou struggles with an injury at the time and watches most games from the sideline. Two years later at EURO 2004, Zidane's country fails to impress again and is knocked out by tournament surprise Greece. Zidane retires from international football, but returns again in the wake of World Cup 2006.
Individually, Zinedine Zidane has been given every major award that a player can achieve. He has won the precious Balon D'Or in 1998 and the FIFA World Player of the Year award in 1998, 2000 and 2003.
Currently, Zinedine Zidane is one of the most skillful and technically gifted players in the game. He can settle and distribute almost any pass thrown in his direction. In individual encounters, Zidane prefers to shield the ball and dribble away from pressure. His style is not flashy, but rather simple and elegant. Zidane can apply his playmaking skills in any circumstance and make it look effortless.
Next one is the Argentinean
Diego Maradona
Diego Maradona has enthralled both fans and critics during the long span of his career. He debuted in professional football during 1975 and played his farewell match in November of 2001. Throughout quarter of a century, Diego Armando Maradona has influenced a multitude of people including some of the top footballers today. In addition to his brilliant skill, the Argentine soccer player has stirred global controversy of unparalled magnitude. Regardless of his addiction to cocaine, failed doping tests and his wild on-pitch antics, Diego Maradona is still regarded as one of the greatest footballers of all time.
Maradona is a complete master of the ball who uses his talent and flair at incredible speed. He can beat defenders, he can score, he can distribute the ball… His versatile skills make him unpredictable and very dangerous. Few defenders could stop Diego in his hayday without committing fouls, a fact which has caused him dearly over the years. In addition, his scrawny stature has made him a target for aggressive defenders who simply have no other means of dealing with the Argentine.
In his international career, playing for Argentina, he earned 91 caps and scored 34 goals. He played in four FIFA World Cup tournaments, including the 1986 World Cup where he captained Argentina and led them to their victory over West Germany in the final, winning the Golden Ball award as the tournament's best player. In that same tournament's quarter-final round he scored two goals in a 2–1 victory over England that entered football history, though for two very different reasons. The first goal was an unpenalized handball known as the "Hand of God" while the second goal was a spectacular 60-metre weave through six England players, commonly referred to as "The Goal of the Century"
After retiring from playing on his 37th birthday in 1997,[1] he gained weight and increasingly suffered ill health, not helped by ongoing cocaine abuse. In 2005 a stomach stapling operation helped control his weight gain. After overcoming his cocaine addiction, he became a popular TV host in Argentina.
His outspoken manners have sometimes put him at odds with journalists and sport executives. Although he had little previous managerial experience, he became head coach of the Argentina national team in November 2008.
Pele
Edison Arantes do Nascimento KBE (born 23 October 1940), best known by his nickname Pelé He is widely regarded by polls among football experts, former players and fans as the greatest footballer of all time. In his career he scored 760 official goals, 541 in league championships, making him the top scorer of all time. In total he scored 1281 goals in 1363 games.
In his native Brazil, Pelé is hailed as a national hero. He is known for his accomplishments and contributions to the game of football. He is also acknowledged for his vocal support of policies to improve the social conditions of the poor (when he scored his 1,000th goal he dedicated it to the poor children of Brazil). During his career, he became known as "The King of Football" , "The King Pelé" or simply "The King"
Spotted by football star Waldemar de Brito, Pelé began playing for Santos at 15 and his national team at 16, and won his first World Cup at 17. Despite numerous offers from European clubs, the economic conditions and Brazilian football regulations at the time benefited Santos, thus enabling them to keep Pelé for almost two decades until 1974. Pelé played as an inside second forward, also known as a playmaker. Pelé's technique and natural athleticism have been universally praised and during his playing years he was renowned for his excellent dribbling and passing, his pace, powerful shot, exceptional heading ability, and prolific goalscoring.
He is the all-time leading scorer of the Brazil national football team and is the only footballer to be a part of three World Cup-winning squads. In 1962 he was on the Brazilian squad at the start of the World Cup but because of an injury suffered in the second match, he was not able to play the remainder of the tournament. In November 2007 FIFA announced that he would be awarded the 1962 medal retroactively, making him the only player in the world to have three World Cup winning medals.
Since his retirement in 1977, Pelé has been a worldwide ambassador for football and has undertaken various acting roles and commercial ventures. He is currently the Honorary President of the New York Cosmos
Thierry Henry
Thierry Daniel Henry (French pronunciation: [tjɛʁi ɑ̃ʁi]; born 17 August 1977) is a French professional footballer who plays for the New York Red Bulls in Major League Soccer.
Henry was born in Les Ulis, Essonne (a suburb of Paris) where he played for an array of local sides as a youngster and showed great promise as a goal-scorer. He was spotted by AS Monaco in 1990 and signed instantly, making his professional debut in 1994. Good form led to an international call-up in 1998, after which he signed for the Serie A defending champions Juventus. He had a disappointing season playing on the wing, before joining Arsenal for £10.5 million in 1999.
It was at Arsenal that Henry made his name as a world-class footballer. Despite initially struggling in the Premier League, he emerged as Arsenal's top goal-scorer for almost every season of his tenure there. Under long-time mentor and coach Arsène Wenger, Henry became a prolific striker and Arsenal's all-time leading scorer with 226 goals in all competitions. The Frenchman won two league titles and three FA Cups with the Gunners; he was nominated for the FIFA World Player of the Year twice, was named the PFA Players' Player of the Year twice, and the Football Writers' Association Footballer of the Year three times. Henry spent his final two seasons with Arsenal as club captain, leading them to the UEFA Champions League final in 2006. In June 2007, after eight years with Arsenal, he transferred to Barcelona for a fee of €24 million. His first honours with the Catalan club came in 2009 when they won the league, cup and Champions League treble. He went on to achieve an unprecedented sextuple by also winning the Spanish Supercup, the UEFA Supercup and the Club World Cup. In total, Henry has been named in the UEFA Team of the Year five times. In 2010, he joined New York Red Bulls.
Henry enjoyed similar success with the French national squad, having won the 1998 World Cup, Euro 2000 and 2003 FIFA Confederations Cup. In October 2007, he surpassed Michel Platini's record to become France's top goal-scorer of all time. Henry retired from international football after the 2010 World Cup. Off the pitch, as a result of his own experience, Henry is an active spokesperson against racism in football. He married English model Nicole Merry in 2003 and had a daughter with her, but they divorced in 2007. Henry was also one of the top commercially marketed footballers; he was ranked ninth in the world in 2006.
Luis Figo
Luis Filipe Madeira Caeiro Figo was born on the 4th of November, 1972 as the only son of parents Antonio and Maria Joana. He grew up in a modest family in Almada, the working-class district of Lisbon. Luis began his career as a street footballer at Os Pastilhas, before joining Sporting Lisbon at the age of 11. As a youngster, Figo won the U-16 European Championship and the 1991 World Youth Cup. He was also a part of Portugal's U-21 squad when his country reached the final of the European Under-21 Championship in France.
By 1995, Luis Figo was a major figure at Sporting Lisbon and clubs like Juventus and Parma were knocking at his doorstep. He eventually transferred to Barcelona where he became an instant success. He helped them win the 1997 European Cup Winners Cup and captained the club to two La Liga titles in 1998 and 1999. In 2000, Figo was transferred to Real Madrid for a world record fee of £37.4 Million. Success followed him to Madrid where he captured the 2001 and 2003 Spanish title as well as the 2002 Champions League trophy.
Luis Figo was a part of what is considered Portugal's "golden generation that never was". Regardless of their potential and entertaining style, Figo's country suffered an early exit at both the 1996 EURO and the 2002 World Cup.
At EURO 2000, he inspired Portugal to reach the semi-final where they were knock out by France. Thanks to his crucial scoring, Portugal reached the final four years later, but his country was defeated by tournament surprise Greece.
In 2000, Figo won the Golden Ball, an annual award given to the top footballer in Europe. In 2001, he was also named FIFA World Footballer of the Year.
As a player, he is a right-footed winger who likes to go around opponents using his amazing array of feints and dribbling moves. Figo is a great player who can hold possession as well as score goals.
Francesco Totti
Francesco Totti, (born 27 September 1976 in Rome) is an Italian World Cup-winning footballer who is the current captain of Serie A club Roma. His position is that of a striker or an attacking midfielder, though he is best known for playing as a second striker. Totti has spent his entire career at Roma, is the number-one goalscorer and the most capped player in the club's history. He is widely regarded as one of the finest players in his generation and also one of Roma's greatest players ever.
Totti has won many individual awards, including a record five Italian Footballer of the Year awards and two Serie A Footballer of the Year awards. He was named by Pelé as one of the
top 125 greatest living footballers in March 2004. He is currently the top active Serie A goalscorer, and sixth all-time in league history with 192 goals.
page revision: 60, last edited: 09 Sep 2010 17:03